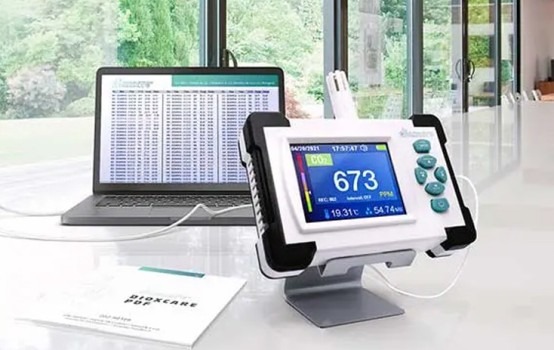 DIOXCARE Co2 Meter
The DIOXCARE DX700 PDF portable CO2 meter detects the carbon dioxide present in the environment with great accuracy in real time thanks to its integrated high-precision NDIR sensor manufactured in Europe (SenseAir S8), based on the principle of absorption of infrared light sources. It also measures humidity and temperature.
Through the integrated datalogger module it is possible to export the data readings in PDF to a computer or tablet to view and analyze them.
Dioxcare is designed for any type of infoor environment:
Schools, offices, public areas, hotels, home, clinics, etc.
Thanks to its compact design and its size, the Dioxcare CO2 meter is a totally portable device with a maximum autonomy of 24 hours. If the user so wishes, it can be used all the time connected to the mains. The device includes a padded carrying case for easy transport.
The Dioxcare CO2 meter calibrates itself automatically, which makes it virtually maintenance-free. The user can quickly and easily perform a manual calibration, if desired, at any time.
The device is very intuitive to use and thanks to its 3.2 "LED display the user can easily view information at any time.
The options menu offers various settings such as programming the interval between readings, setting an acoustic alarm when CO2 levels exceed the set limits and the ability to take the necessary measures at any time. In addition, the measurement history can be viewed on the integrated LED display.
Dioxcare is a Spanish brand that manufactures products according to the highest quality standards, thus having the CE mark and European approval. DIOXCARE measures CO2, temperature and humidity.
Already thousands of customers rely on Dioxcare to monitor CO2 levels in enclosed spaces to reduce the risk of contagion.